Statesboro – Bulloch County
Welcome to Statesboro & Bulloch County!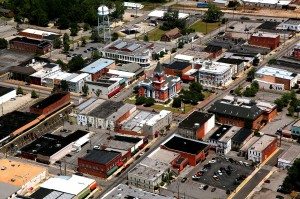 In 1908 Statesboro led the world in sales of long-staple Sea Island Cotton. For each bale of cotton sold in Savannah, ten bales were sold in Statesboro.During Sherman's famous march to the sea, a Union officer asked a saloon proprietor for directions to Statesboro. The proprietor replied, "You are standing in the middle of town." The soldiers destroyed only the courthouse – a crude log structure that doubled as a barn when court was not in session.
Statesboro is home to Wal-Mart Distribution Center, Briggs & Stratton, Viracon, Great Dane and many more that help support Statesboro and Bulloch County. Statesboro has over 1,000 hotel rooms and over 150 restaurants.
Zaxby's was founded in Statesboro in 1990 by Zach McLeroy and Tony Townley. The first restaurant operated out of a trailer located in the parking lot of what is now University Plaza at the corner of Georgia Ave. and Chandler Rd. Zax sauce was prepared on site and the establishment served beer.
Blues musician "Blind Willie" McTell authored "Statesboro Blues," a song later covered by numerous artists including the famous rendition by The Allman Brothers Band. McTell was known to play his 12-string guitar on the steps of the Jaeckel Hotel – what is now City Hall.
The Emma Kelly Theater was originally known as The Georgia Theater and was opened in 1936. It included such modern conveniences as steam heat and a coffee shop. The theater was also one of the first buildings in the city to have air conditioning.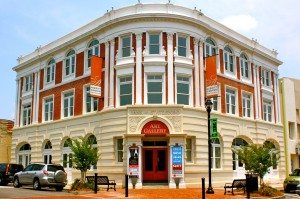 The Emma Kelly Theater is named for local music legend Emma Kelly who was dubbed by Johnny Mercer as "The Lady of 6,000 Songs."
The 1995 film "Now and Then" starring Rosie O'Donnell, Melanie Griffith, Demi Moore and Christina Ricci was filmed in Statesboro. A downtown sewer drain near 119 Chops on West Main St. was altered to serve a purpose in the story line of the movie and remains unchanged since its filming.
The Georgia Southern University reinstated its football program in 1981 after more than 40 years of dormancy. Erskine "Erk" Russell was hired as the Eagles' head coach and would go on to win three national titles in 1985, 1986 and 1989. The Georgia Southern Eagles under Head Coach Erk Russell completed a perfect (15-0-0) season in 1989 – the only perfect season of the twentieth century.
---
Contact:
Becky Davis, Executive Director
Statesboro Convention & Visitors Bureau
332 S. Main Street
Statesboro, Georgia 30458
p.912-489-1869
Email: beckyscvb@gmail.com
Website: www.visitstatesboroga.com
Explore Georgia Site: http://www.exploregeorgia.org/city/statesboro
To request information, please fill out the form below: