Alma – Bacon County
Alma/Bacon County is the "Blueberry Capital of Georgia"!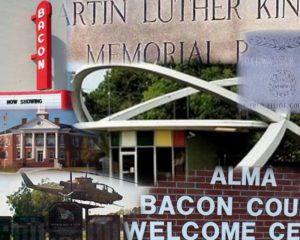 The Alma-Bacon County area of Southeast Georgia has many scenic and historical spots to enjoy visiting.
Take time to explore areas of interest whenever you come to visit us. You just might want to stay!
Alma-Bacon County is located on the Coastal Plains of Southeast Georgia, approximately four hours south of Atlanta, one hour west of Brunswick and the Golden Isles, and two hours north of Jacksonville, Florida. A central geographical location and relatively inexpensive land makes Alma-BaconCounty an ideal location for industry and homes.
A casual, easygoing community, with no traffic congestion or urban sprawl, provides the environment for a simplified way of living with easy access to urban amenities.
Offering plentiful business services and amenities means nothing without a desirable quality of life to support it all. Alma-BaconCounty is a friendly, inclusive community, offering quality housing, fine educational opportunities, recreation amid beautiful natural surroundings, and the services you would expect from a community that cares.
Alma/Bacon County is the "Blueberry Capital of Georgia".  Blueberries have become the area's point of pride, kicked off each year by the annual Georgia Blueberry Festival which is held the first weekend in June. Alma/Bacon County residents and visitors enjoy a blueberry cooking contest, blueberry plants and fresh blueberries for sale by our local 4-H Club, a beauty contest, a golf tournament, a theater production, arts and crafts, a 5K run/walk, sidewalk chalk contest, pie-eating contest, senior beauty pageant, car show, Friday night street dance, blueberry idol, blueberry pancake breakfast and a bass fishing contest in celebration of this locally cultivated, colorful fruit. The festival is held in downtown Goldwasser Park.
We also offer, the 117-acre recreational park, which includes five competition-ready softball/baseball fields, picnic area, children's play area, tennis courts, and nature trail.
There is also the Big Buck contest sponsored by the Alma Lions Club. It is held annually in October on Opening Day Southern Firearm Season. There are many categories in which to win a prize and visit with your friends and family.
___________________________________________________________
Contact:
PO Box 450
Alma, GA 31510
p.912-632-8643
Email: abcchamber@atc.cc
Website: www.almagachamber.com
Explore Georgia Site: http://www.exploregeorgia.org/city/alma
l>
To request information, please fill out the form below: